Eric MacAdams, a six year veteran of the Jr. Warriors program — and son of Coach & Valley Jr. Warrior Program Director, Steve MacAdams — committed to UNH for the Fall of 2017.
MacAdams, a right-shot forward, is currently a member of the Sioux Fall Stampede in the USHL.  From Salem, MA, MacAdams at 5'11", 175 lbs played for the Jr. Warriors from age 11 to age 17, and after finishing his Junior Year, left Austin Prep for South Dakota.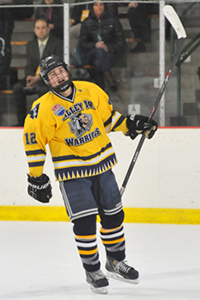 As a member of the '97 Elite team, he was teammates with 7 other D1 players (Hanafin, White, Askew, Fitzgerald, Harris, Mirageas, and Griffin).  This team gained national attention during the 2009-2010 season when they won the State Championship and brought wins all the way to the semifinals of the USA Hockey Tier 1 National Championship Tournament.  They followed up the next two seasons (2011-2012, 2013-2014) with State Championship wins, each year advancing to the Nationals.
At Austin Prep, MacAdams continued to play split seasons with the Jr. Warriors and the school team during which he helped his teams advance to the Super 8 Championships and the USA Hockey National Championships.  He was invited to the USA Hockey's Select 17 Player Development Camp, named captain of the Austin Prep team as a Junior and selected by the Boston Herald to the All-Scholastic Hockey Dream Team. He chose to go to the USHL to round out his development, broaden his experience and solidify his goal of playing Division 1 college hockey.
When asked the most valuable lesson he received while being coached by his father in the Jr. Warriors program, Eric said "The most valuable lessons my father taught me were to be a good teammate and person, never get outworked, and give an honest effort all the time."
We wish you the best of luck at UNH!